In business as in life, often its the little things that make the difference, not the big things. Having a cap sorting system that works and keeps your production line moving is one of the little things that has a huge impact. Velocity Equipment Solutions has a number of different cap sorting systems, including accessories, that will keep your production moving along smoothly. No matter if you are using screw caps or snap caps, multiple sizes of caps, or need speeds in excess of 300 caps per minute, Velocity Equipment Solutions can help you get the cap sorting system you need to make your production operation run well.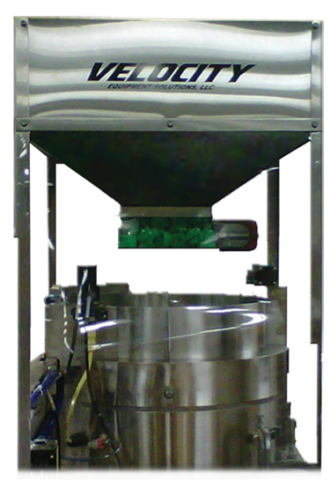 What A Good Cap Sorting System Can Do
Being able to rely on your equipment hour after hour, day after day, with uninterrupted service is exactly what a bottler is looking for. Downtime is lost time and lost money, so having good equipment that does what you expect is highly important. Using a variety of pieces in the system, a cap sorting system will provide for a continuous flow of caps to be applied to bottles. Each piece of the system has been engineered to properly match the tolerances of the caps, ensuring that the delivery of the caps remains consistent throughout the production run.
What all of this precision engineering means is that you can produce more bottles of product in the same amount of time because you are spending less time working to resolve problems. More product equals more sales, and that equals more profit for the business.
What Options Are Available
If your production area has lower speed requirements or simple caps that are all identical, going with a vertical cap sorter system is ideal. These sorter systems can go as high as 300 caps per minute and are best when you are using the same caps without needing to change over to a different sized cap. If you need a little more speed or want the ability to vary the caps you are using, a horizontal cap sorter is a wise choice. And with either of these cap sorting systems you have a number of options to help keep the line running with minimal effort. You can add extensions to allow for more caps to be added, an overhead pre-feeder to increase the number of caps, and more. Talk with Velocity Equipment Solutions today about your needs and learn what they have to keep your operation running.