Waterfall Sorter, or Waterfall Cap Sorter, Cap Sorting Systems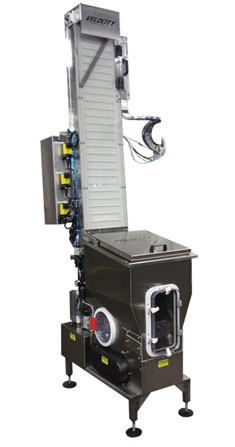 The Waterfall Sorter sorts the caps and applies the caps to the bottles all in one packaging assembly. It sorts and elevates the caps from floor level then applies the caps to the bottles with a chute.
The basic function of the Waterfall Sorter is to orient a bottle closure and discharge it to a transfer system – generally a chute. Closures are trickled through a hopper onto a horizontal section of cleated belt. Oriented closures continue to travel up the elevator to where they are pushed and stripped sideways off of the cleated belt into a discharge area. From here the caps are transferred by a chute to where they are applied to a container.
*** Waterfall Sorter is LOADED from the FLOOR LEVEL. ***
This feature can greatly reduce your employee's risk of falling off of a ladder, climbing a platform and loading the sorter from awkward angles and straining their backs while carrying the boxes up a ladder, improving productivity as well as help reduce labor cost.
Standard Features
Runs H-Tab designed caps (Other cap sizes are available to run)
Available in 8', 9' or 10' Sorters
High Speed Sorter is capable of speeds up to 300 cpm
Econo Sorter is capable of speeds up to 125 cpm
Wash down resistant
Multiple fill room layout possibilities
Loaded from floor level
Constructed completely of stainless steel
Manufactured in accordance with 3-A Standards and Current cGMP Standards
All material is RoHS compliant
Accumulated hopper bin to a pre-feed belt
Clean out chute and hatch allowing for an easy line clearance
PLC motor controls
Stainless steel drive, motor & gear box
Drive Type – Chain Drive
Low Mount Drive System (Stainless Steel) – Econo System Only
High Mount Drive System (Painted Motor) – High-Speed System Only
View ports
Magnetic safety switches on doors
Electro-Optic sensors are able to record and detect the following controls
Full chute
Pre-feed belt
Conveyor jam (upper)
Optional Features
Chute run out sensor package
Machine Utility Requirements
Electrical – 240 VAC or 480 VAC, 60Hz