Secondary Plastic Bottling & Water Bottling Equipment
Velocity Equipment Solutions builds the same quality into our secondary equipment, enabling you to further streamline your processes and expand the services provided by your Velocity Bulk Water Bottling System.
CONTACT US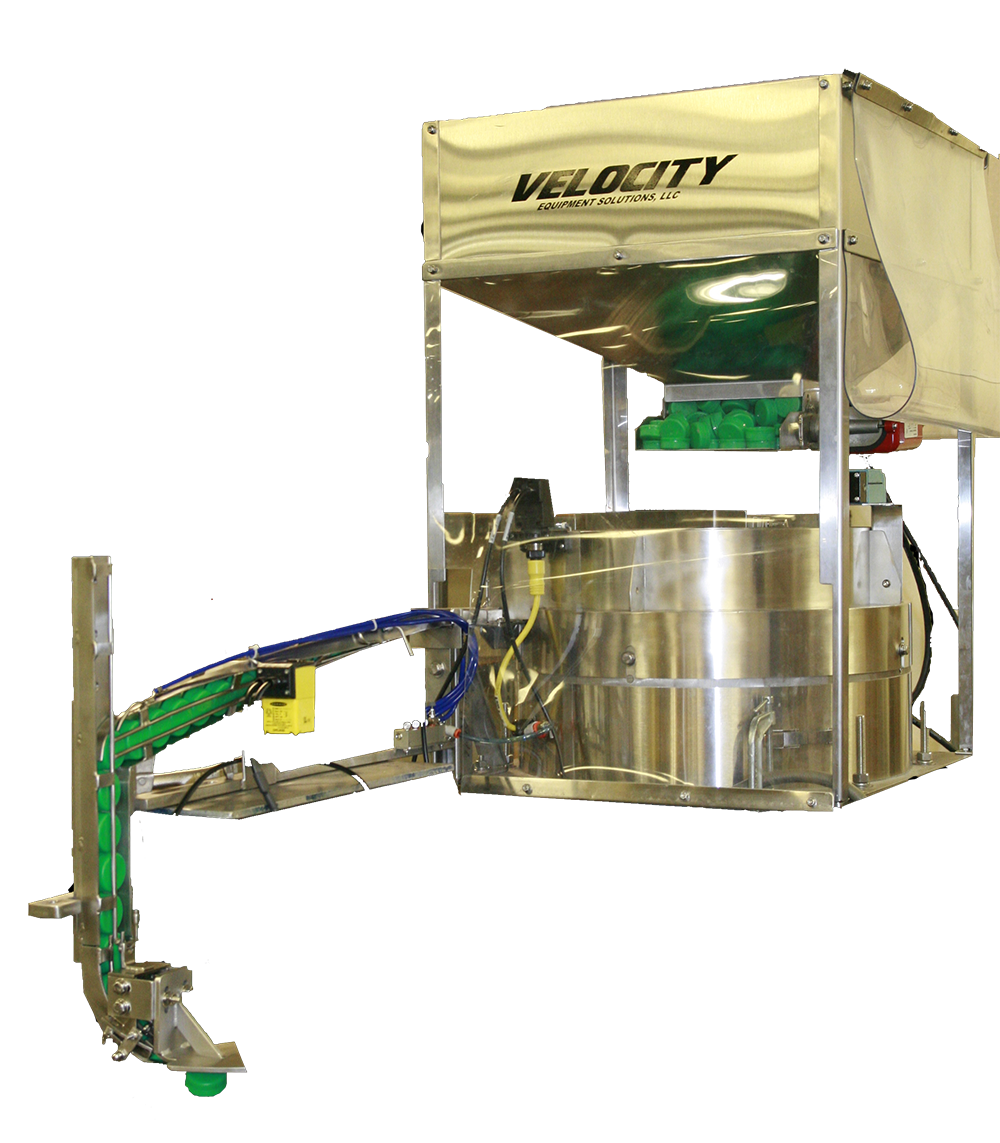 This equipment includes:
Velocity Capper Units
Presser-belt cap sealing
Cap lubrication mechanism
Processes up to 3,000 BPH
Stainless steel componentry throughout
Spinner bowl to orient caps into correct position
Adjustable rod-style open cap chute for easy cleaning
Overhead hopper with vibrator and low-level switch
Air regulators at presser-belt and cap-chute foot
All material is RoHS compliant
Capper Unit Options
Multiple size bottle adjustability
Fiber-optic sensors for cap-present sensing and no cap alarm
Cap chute UV lamp
Ionic cap de-dusting mechanism
Floor-level hopper with elevator (various tub sizes available)
Velocity Fillers
In-Line Models (3-head to 6-head)
Side-Shift Models (6-head to 14-head)
Standard pressure filling, timer-based pump with VFD speed controls
All componentry in the food zone is NSF component certified
All material is RoHS compliant
Overflow recovery system to minimize water loss
Filling System Options
CIP (clean in place) ready
Flow-metering with monitoring process for bottle filling accuracy
Non-contact filling
Multiple size bottle adjustability
HEPA filtration
Chamber lighting
SS braided fill hoses
Inspection
A variety of inspection equipment is available to complete your Velocity Bottling Systems line. These include the following optional devices ready to automate your process further. Contact us for more information.
Visual light inspection tables
Leak detectors
Containment detectors
Vision/Camera-based inspection
Contact Tank
Contact Tank Features
125 to 1,500-gallon models
Manhole access with window
Flanged water feed inlet with SS float valve
SS construction
Cone bottom and domed top
Lift-lugs
Sampling drain and ozone diffuser system
3″ or 4″ tri-clamp outlet with ball valve
All material is RoHS compliant
Contact Tank Options
Side-sight level tube
CIP ready with spray-ball
Additional couplings
Ozone destruct unit
HEPA breather
Decapper Units
Velocity 600 Semi-Automatic Decapper Unit
The Velocity 600 Semi-Automatic Decapper is a semi-automatic designed for manual operation.
Features
Removes and discards Non-Spill caps from empty 3, 5, & 6-gallon returnable type bottles with 55mm neck finish
Stainless steel construction with clear Lexan coverings
49-1/2″ overall height
System requires clean, dry compressed air supply for operation; 3 CFM @ 90 PSI
Electricity not required
All material is RoHS compliant
Velocity 1800 Automatic Inline Decapper Unit
The Velocity 1800 Automatic Inline Decapper is the fully automatic, top quality solution for large water bottling operations.
Features
Automatically removes and discards caps from empty 5-gallon bottles at speeds up to 1,800 BPH
Designed for over conveyor mounting
Stainless steel construction
Customized to fit top-of track height requirements
Right or left-hand cap discharge models available
Bottle-backup sensor prevents back-up of bottles into the decapper
Built-in sensor allows bottles without caps to pass through
Audible alarm sounds if cap is not removed completely
Compressed air required: 15 CFM @ 90 PSI
120VAC/1ph/60 Hz standard
Control panel with touch-screen
Requires minimum accumulation of 10' power conveyor for proper operation
All material is RoHS compliant
Automatic Options
Multiple bottles size capable
Crate capable
Bottle rejection station
Power conversion package
Control panel upgrade
Conveyor sections
ROBOTICS
Velocity can completely design a robotic solution to fit your needs.
Features
Full bottle load only scenarios
Full bottle load and empty bottle unload scenarios
Rack conveyor-gravity, powered, turntables, scissor-lift tables
Wide range of tooling options
Twin robot solutions for high-speed efficiency
Multiple rack style/size sensing devices
Photo/vision systems
Steel and/or plastic racks solutions
All material is RoHS compliant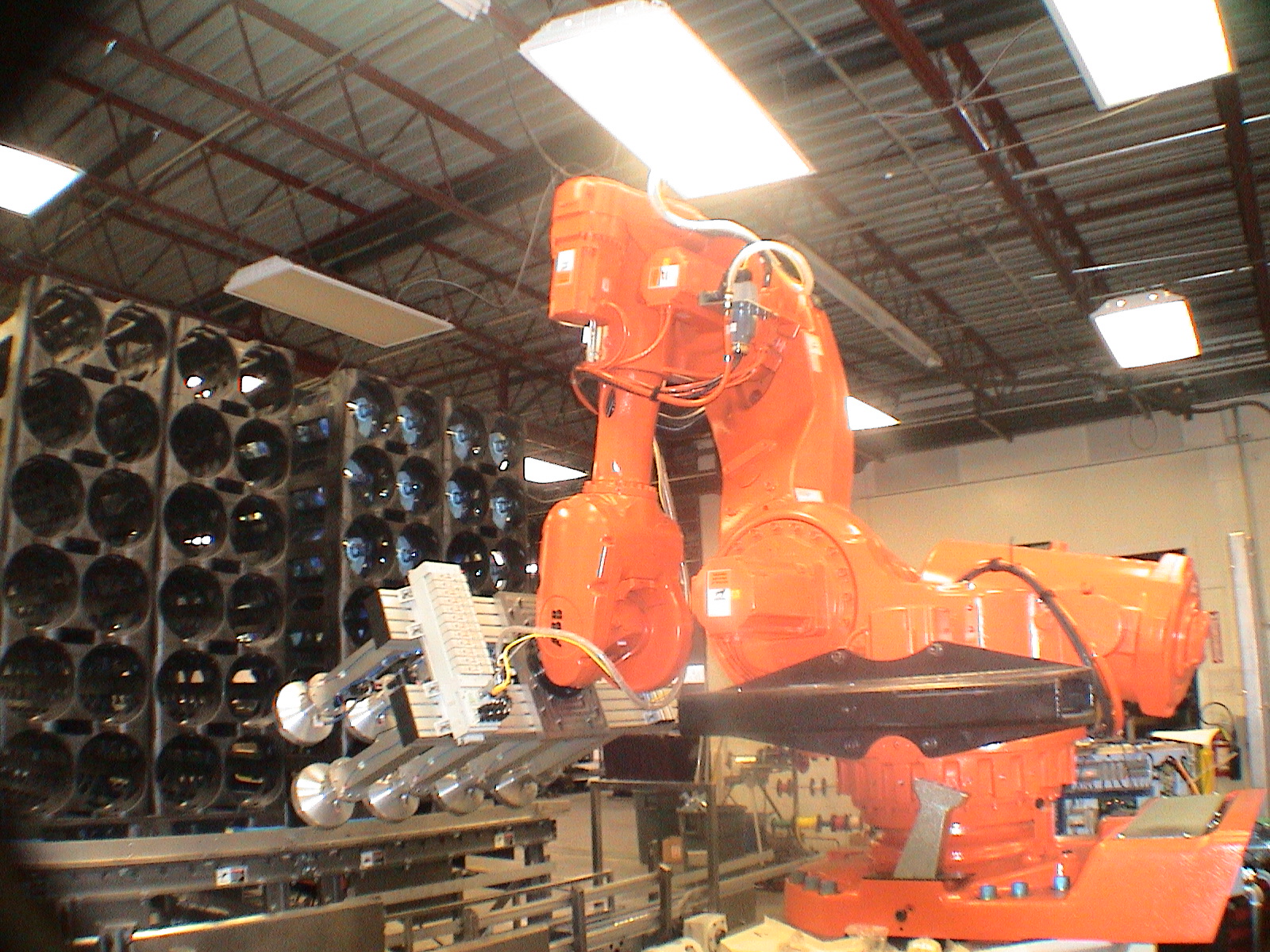 PROCESS OPTIONS
System Options
System power supply conversion to local electrical specifications
Other controls packages – Omron, Allen Bradley
Multiple size bottle adjustability
Control cabinet air-conditioning
Stainless steel control panel upgrade
Additional power bottle conveyor
Additional gravity bottle conveyor
Enclosure for power conveyor
Conveyor drip pans and water drainage system
Electrical cable containment system upgrade
Washer Options
High-pressure washing system
Rising header nozzles
Canister/Bag filtration unit
Tube axial steam extraction fan
Single-point drain and supply connections
Automatic water make-up system
Washer interior lights
No-spill cap plug collection tray
Washer load and unload containment pans
Automatic detergent dosing pump
Wash solution heater options
Sanitizing Options+
Final rinse pump
Integrated ozone contact system
Ozonator System
Oxonia system
Equipment Add-ons
In-line pre-washer
Clean in Place (CIP) System
Ozone Generator
Contact Tank
Modular Fill Room
Cap Hopper and Elevator
DeCapper Unit
Video Jet Printer-optional
Leak Detector
Contaminant Detector
RO, pre-treatment, and post-treatment filtration

RO systems
Softeners
Carbon filtration
Clarification filtration
UV systems
Storage solutions

Visual light inspection station
Crossover bridge-walkway
Shrink-band applicator with heat tunnel
Robotic solutions
Rack washer
Velocity Equipment Solutions Global Headquarters
2618 West State Street
New Castle, PA 16101, USA
TOLL FREE: 800-521-1368
UK Sales Office and Distribution Center
Units 4 E+F, Manor Business Park, Grants Hill Way
Woodford Halse, Nhants, NN113UB
United Kingdom