Blow Mold Equipment for Sale
Velocity Equipment Solutions has over 30 years of experience in the manufacturing of blow molds from 30 ml to more than 5 gallons.
We pride ourselves on quality blow mold equipment for sale for customers around the world. With 4 global manufacturing, sales, and distribution facilities, we are ready to bring state-of-the-art technology in quality blow mold equipment and customized blow molding machine designs to any customer.
All of Velocity's components and machines are manufactured on location under strict quality controls including ISO 9001. Our parts, machines, and various blow mold equipment carry Velocity's industry-recognized standards.
Quality Engineered Blow Molding Machines
We know your blow mold machine is only as good as the bottles it produces. That is why blow mold equipment for sale from Velocity starts with our top engineering capabilities. Even distribution and coverage, consistent output, and other quality features are as important to us as they are to our clients.  Velocity designs and stays on the cutting edge of blow mold technology to consistently supply mold-blown products for years to come as needs change.
We see ourselves as strategic partners with our clients. Your blow molding machine and blow mold equipment are only as good as it works for you. That means we need to provide the product or engineer customized blow mold equipment that fits your needs.
Types of Blow Molding Machines we offer:
Reciprocating Blow Mold Machines
Blow Mold Machines for HDPE Single Layer Bottles
Blow molding equipment and capabilities include:
Clamp Components
Cooling Bed & Trimmer
Die Head Components
Equipment
Extruder Group
Molds
Neck Tooling
R2000 Clamp Package – Heavy Duty
Rebuilds & Upgrades
Velocity Equipment Solutions Blow Mold Catalog
Review our catalog online or download for your particular needs.
DOWNLOAD CATALOG
Blow Molding Machine Innovation
At Velocity, we pride ourselves on staying ahead of new blow molding machine designs and technology. Our inventory is filled by many of the top manufacturers, including CapSnap and Uniloy, which allows us to bring innovative solutions to our clients. We are constantly working to bring solutions to our clients such as:
Complete quick changeover capabilities
Lower energy costs
Lower maintenance costs
Improved mold trimming
Hydraulic oil leak solutions
Improved mold longevity
Ease of operation
Noise reduction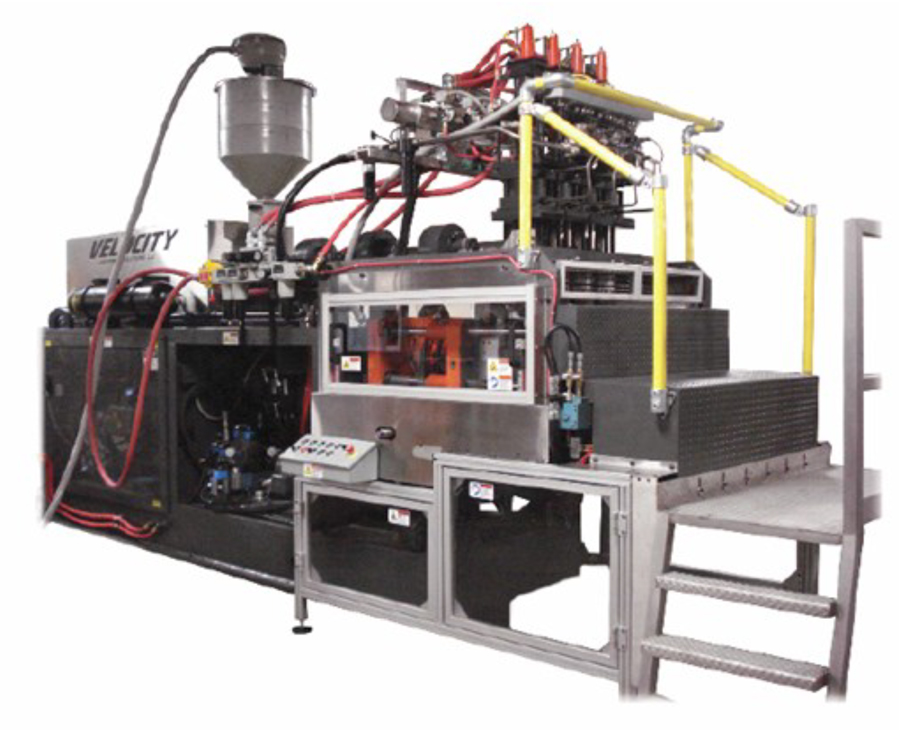 Blow Mold Equipment for Sale
Your blow molding machine is made of many different parts. Additionally, more parts and equipment can be added or used for modifications as your business grows and changes. That's why we bring you the best replacement parts and equipment. And, when we have new innovations, we will let you know about them and how they can benefit your blow molding operation. Learn more about our new blow mold equipment and used blow mold equipment for sale.
If you ever experience any issues with your blow molding machine, whether you bought it new or used from us or from a different supplier, we'll be happy to work with you to find the upgraded design that will fix your problems.
Velocity Equipment Solutions Global Headquarters
2618 West State Street
New Castle, PA 16101, USA
TOLL FREE: 800-521-1368
UK Sales Office and Distribution Center
Units 4 E+F, Manor Business Park, Grants Hill Way
Woodford Halse, Nhants, NN113UB
United Kingdom