About Velocity Equipment Solutions: Bottle Capping Equipment, 5 Gallon Bottling Line, Bulk Water Bottling Equipment, Bottling System Parts, and Bottle Cap Sorter Repair
Superior Equipment. Superior 24/7 Service.
Velocity Equipment Solutions
When equipment is the lifeblood of your company, quality isn't an option: it's a fundamental necessity, and you can't afford to compromise. Machinery represents a huge investment, and you expect a huge return on that investment. Precision, durability, dependability, and simplified maintenance: you want it all.
Customers throughout the world have performed their due diligence and trusted Velocity Equipment Solutions to deliver everything they need in Blow Molding Machines, Bottle Capping Equipment, Bulk Water Sanitizing and Filling Equipment, Cap Sorting Systems, and so much more.
A History of Excellence
Longevity: it's the undeniable, inarguable measure of quality when it comes to equipment.
Time is the ultimate judge. Most of the bottling systems currently used in the market were built by Velocity Equipment Solutions and its predecessor companies. When you begin to review how many Velocity machines are still performing after 20, 25, and even 30 years of service, you'll quickly come to the same conclusion shared by more than 300 companies located in over 35 countries around the globe: Velocity Equipment Solutions builds quality machines.
It begins with smart design.
Our intimate understanding of our market through years of custom design and builds has resulted in our uncanny ability to build machines that live up to the individual needs of our customers. Perhaps even more impressive is the quality of everything we build. Our equipment is engineered and built to meeting and exceeding demanding standards and specifications. Stainless steel construction, Allen Bradley electrical componentry and innovative design results in durable, dependable equipment that provides large volume service for years and years to come.
Blow Molding & Water Bottling Machine Parts, Equipment, and Maintenance
Customer Service with No Compromise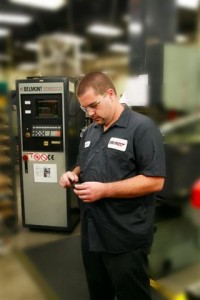 Nobody makes money when production is down. The professional technicians at Velocity Equipment Solutions are experts at diagnosing any possible problems. When one of our machines has issues, our Customer Service department responds immediately. Available 24/7/365, our customer service team dispatches technicians to your location, ensuring your system receives the repairs or adjustments necessary to keep you up and running, no matter when we receive the call. And this service is supported by a huge inventory of the highest quality spare parts available.
When you need a part, we're equally responsive.
With multiple warehouses throughout the globe, we're able to quickly deliver the parts you need when you need them. Of course, our knowledgeable staff are here to help you get the right part in the most expedient manner possible. Our longevity and continued growth is a testament to the uncompromising equipment quality and dedication to customer service delivered by Velocity Equipment Solutions.
Trust Velocity Equipment Solutions for:
Velocity Equipment Solutions Global Headquarters
2618 West State Street
New Castle, PA 16101, USA
TOLL FREE: 800-521-1368
UK Sales Office and Distribution Center
Units 4 E+F, Manor Business Park, Grants Hill Way
Woodford Halse, Nhants, NN113UB
United Kingdom