Custom Machinery & Plastic Conveyor Systems
Packaging & Machinery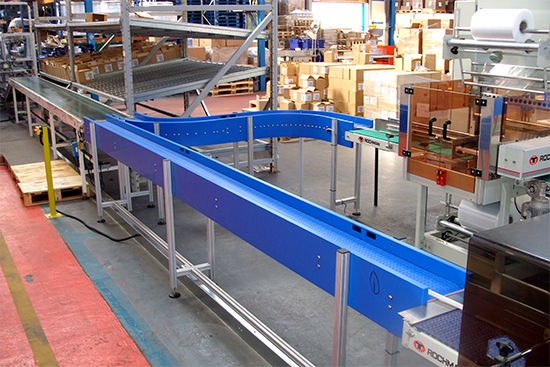 For nearly half a century, Velocity Equipment Solutions has worked with a multitude of companies throughout many industries to deliver machines that address specific production requirements. Our innovative engineers, designers, and technicians bring more than adaptations: they provide truly customized solutions that enable you to deliver quality products without compromise.
One of the most requested customizations is conveyor systems. The smooth, uninhibited transfer of product to and from the machine is critical to maintaining uninterrupted product flow. Velocity Equipment Solutions' innovative approach to conveyors has provided one of the industry's most effective and efficient conveyor systems.
Better Materials
Velocity Equipment Solutions uses ultra-high molecular weight (UHMW) plastic in our conveyor systems. This material affords incredible flexibility in manufacturing, which means they can be custom designed to any need. This durable material is FDA approved for direct food contact AND wash-down ready.
Greater Versatility in Customization
Due to the versatile UHMW plastic, our conveyors can be manufactured in virtually any style. Flat table top, swan neck, horizontal, vertical, or curved, Velocity Equipment Solutions can deliver. Our modular design allows easy reconfiguration of the conveyor. Add or take away sections as your needs change. Velocity Equipment Solutions' streamlined manufacturing process ensures you get the custom conveyor system you want with extremely short lead times.
Increased Durability
No one questions the strength of steel…and ultra-high molecular weight (UHMW) polyethylene is pound for pound stronger than steel. Since they're FDA-approved for direct food contact, they are ideal for a variety of applications, including andy that requires compliance with 2A and cGMP standards. Whatever the environment, Velocity Equipment Solutions' conveyors are right at home, whether the environment is hazardous, a wash-down setting, or for general purpose. Not only are they durable, but our conveyors are aesthetically pleasing. Available in the color of your choice, our conveyors maintain that 'brand new' look for as long as you own them.
Higher Efficiency
Velocity Equipment Solutions conveyor systems are uniquely designed to fully capture the conveyor belt. They feature grooved tracks, allowing uniform tension, eliminating excess belt sway or belt ride up typical with other conveyor systems. UHMW features a lubricity that lowers the coefficient of friction, making our conveyor systems 20% more energy efficient than standard conveyors.
Velocity Equipment Solutions Global Headquarters
2618 West State Street
New Castle, PA 16101, USA
TOLL FREE: 800-521-1368
UK Sales Office and Distribution Center
Units 4 E+F, Manor Business Park, Grants Hill Way
Woodford Halse, Nhants, NN113UB
United Kingdom