Blow Mold Machines
Building the World's Only All-Electric Reciprocating Blow Mold Machine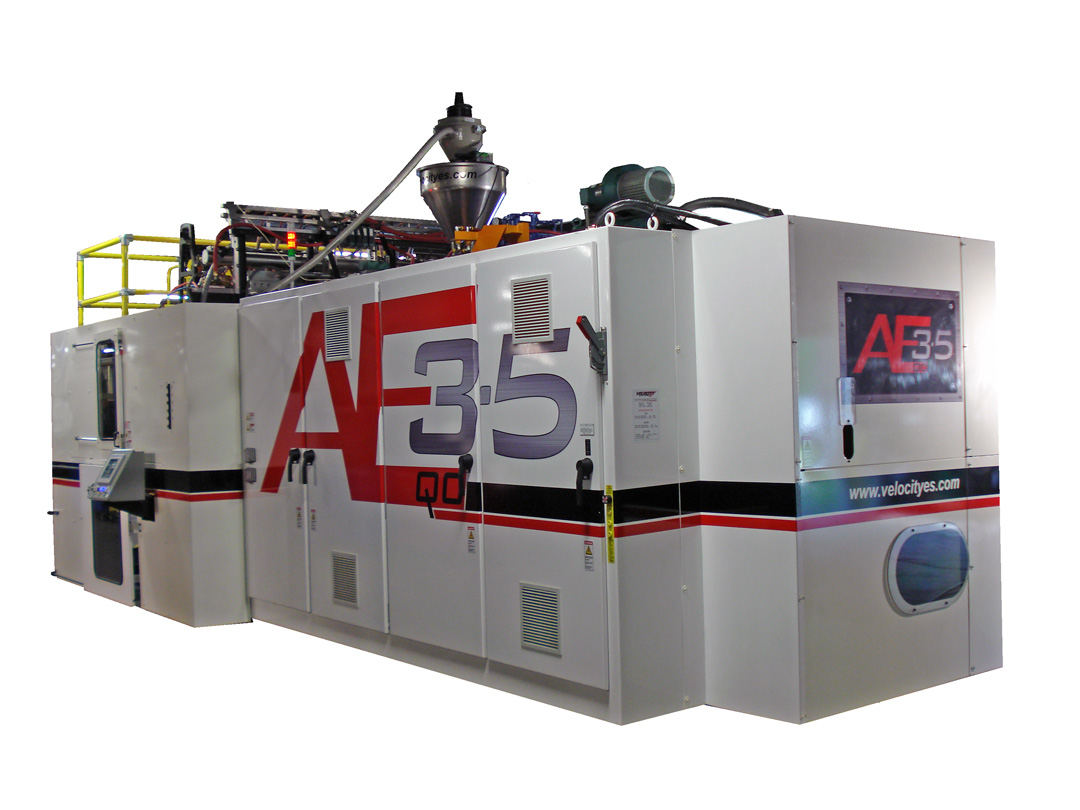 Reciprocating Blow Mold Machines by Velocity Equipment Solutions
As an industry leader, Velocity Equipment Solutions is well known for innovations in design and build. We are the only manufacturer in the world that builds an all-electric reciprocating blow mold machine for HDPE single layer bottles. Our blow molding machines make life easier for bottlers of dairy products, water, juices, and other non-carbonated beverages, as well as other industrial products.
We understand the needs of our clients and what they expect and need from their blow molding equipment. When you consider the benefits, you'll understand why Velocity Equipment Solutions continues to be considered a premier manufacturer of quality blow mold machines:
Our all-electric machines use approximately ½ the energy of a hydraulic machine
All-electric machines require considerably less maintenance
No messy hydraulic leaks: a huge advantage when dealing with food products.
Used for many applications, Velocity's All-Electric Reciprocating Machine is the most efficient on the planet!
Velocity Equipment Solutions employs an advanced reciprocating screw blow molding. This technology enables us to achieve the high-volume production you want with the lowest possible per container cost. We conduct all manufacturing on location with an unwavering attention to the strictest quality guidelines. Every machine, part, and ancillary product is built to meet the highest industry quality standards.
Quality Engineered Blow Mold Machines
Even distribution and coverage, consistent output, retooling flexibility, and machine durability are all characteristics of Velocity's reciprocating blow mold machines. Our superior design results in state-of-the-art machines that offer a host of benefits, including:
Complete quick changeover capabilities
From 30 ml to +5 gallons
Lower energy costs
Lower maintenance costs
Improved mold trimming
No hydraulic leaks!
Improved mold longevity
Ease of operation
Reduced noise
Velocity Equipment Solutions Blow Mold Catalog
Review our catalog online or download for your particular needs.
DOWNLOAD CATALOG
Reciprocating Blow Mold Machines: The Smart Choice
Reciprocating screw blow mold machines provide a host of benefits over shuttle machines.
Reciprocating machines generally provide faster cycle times.
Higher outputs
Fewer moving parts
Lower capital costs
Integrated real-time preventative maintenance software
Latest efficiency upgrades for optimal performance
State-of-the-art electronics with operator friendly man/machine interface
Shortest lead time in the industry (machines delivered in as little as 6 weeks)
Extensive industry experience, a spirit of innovation, and dedication to excellence have made Velocity Equipment Solutions the one of the industry's most recognized and respected manufacturers of reciprocating blow mold machines. Save time, save money, and improve the quality of your containers with equipment manufactured by Velocity Equipment Solutions. Speak to a Velocity representative about the blow mold machine options available to you.
Velocity Equipment Solutions Global Headquarters
2618 West State Street
New Castle, PA 16101, USA
TOLL FREE: 800-521-1368
UK Sales Office and Distribution Center
Units 4 E+F, Manor Business Park, Grants Hill Way
Woodford Halse, Nhants, NN113UB
United Kingdom