When you are ready to purchase a 5-gallon bottling line, ask Velocity Equipment Solutions. We produce quality bottle filling machines and systems for the United States, Canada, and across the world. As an international company, our team works to provide every customer with a 24-hour, 7 day a week customer service line, which can ship parts, answer questions, and walk you through issues.  We have been able to service more than 300 companies, in over 35 countries, with 4 global manufacturing facilities, during our 45-year history.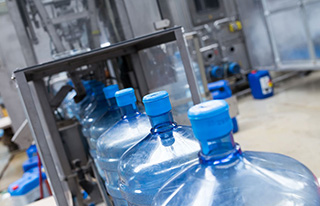 Which Bottling System is Best for You?
Our 5-gallon bottling line can be used for more than just water. It also holds juices, gel products, ink, paint, and other non-viscous food products. We have three types of bottling lines which can be used for filling 5-gallon bottling lines.
The first is the Velocity 150-275 Water Bottling System. This system can produce up to 275 bottles per hour and features an integrated washing, filling, and capping system. This is a great system for smaller volumes.
The next 5-gallon bottling line is the Velocity 300-600 Water Bottling System. This system is compact, yet can fill 300 to 600 bottles per hour. Medium sized companies do best with this bottling machine.
Large scale bottlers, that need to move 1000 bottles or more per hour, should use the Velocity 1000-3000 Water Bottling System. This system can fill 1000 bottles to 3000 bottles per hour. This bottling machine offers the highest quality production for the 5-gallon bottling line and is the most efficient for its size. Its stainless-steel construction makes this system durable.
Regardless of the system you choose, the opportunity to expand is available, with optional equipment available through our customer service line.
Call Velocity Equipment for Maintenance, Repairs or Upgrades
If it's time for maintenance, repairs, or upgraded systems, for the 5-gallon bottling line or other systems, we at Velocity Equipment Solutions, are available around the clock. Our support technicians are ready to answer your call and offer solutions to get you back to business. Whatever questions you have or issues that arise, you can always reach our customer service line for information or to place an order.  Call 800-521-1368 for repairs, maintenance, or assistance. Our support team is always ready to assist our clients, 24 hours, 7 days a week. We have locations in the United States, Canada, Mexico, Ireland, the United Kingdom, Australia, and New Zealand. See here for more information on 5-gallon bottling lines.